Areas Served
The South Brunswick Islands of North Carolina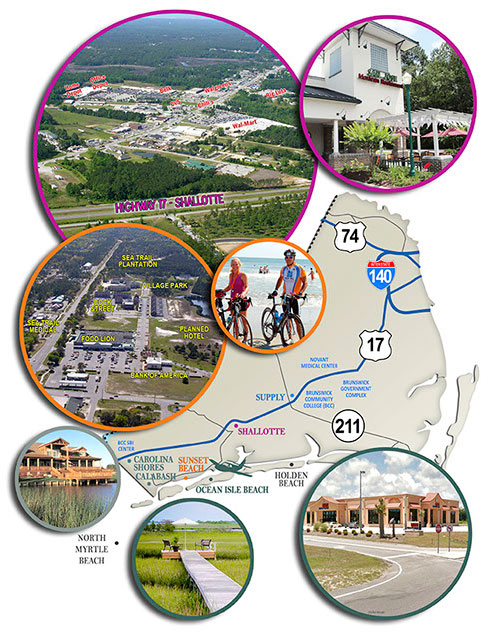 CarolinasCommercial  specializes in commercial and residential investment properties from Wilmington, North Carolina to Myrtle Beach, South Carolina.  This real estate market has several distinct and very different areas with their own characteristics and opportunities and we can help you in your evaluation of each one.
The South Brunswick Islands of North Carolina sit west of Highway 211 and south of Highway 17 in Brunswick County, stretching from Supply in the center of the county to the South Carolina state line.
The South Brunswick Islands proudly support Big City Business – Small town Style.
The Year-Round Population of the area is approximately 73,849 with a Median Household Income of $60,635 and a Median Net Worth of nearly $211,423.
South Brunswick Islands communities rank #1, 2, 3, 4, & 5 of the Wealthiest Zip Codes in the three-county Wilmington Region
Brunswick County is home to 39 signature golf courses, 45 miles of Atlantic Beaches and a variety of music and food festivals attracting tens of thousands of visitors to the South Brunswick Islands each year.
More than 50% of the 61,000 homes in South Brunswick Islands are either second homes or rental properties.
Rental household count during the extended golf and beach season average 5 people per party with average stays of 6.3 days and average daily spending of $175 per person.
Domestic tourism in Brunswick County generated an economic impact of $633 Million in 2019, up 5.76% from 2018.
Already home to major retailers like Ashley Furniture, Belk, Chili's, Golden Corral, Harley Davidson Motorcyles, Home Depot, Lowe's Home Improvement, Office Depot, and Walmart, Shallotte's new Coastal Walk Marketplace features national retailers that wouldn't have previously considered a location with similar demographics like Starbucks, Ulta, Hobby Lobby and Marshalls.
You can view the latest South Brunswick Islands information and statistics online here, download the PDF or use the links below to the interactive infographics of the community.